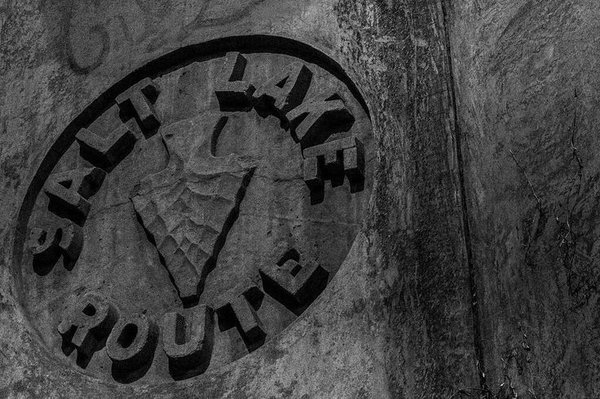 SALT LAKE ROUTE
Salt Lake Route t-shirt. This emblem is chiseled in to the side of the 5 Points Bridge off of Whittier Blvd. These are super cool under the radar Whittier Local tees. Grab one today.
The Los Angeles and Salt Lake Railroad (reporting mark SLR)[1] was a rail company that completed and operated a railway line between its namesake cities, via Las Vegas, Nevada. Incorporated in Utah in 1901 as the San Pedro, Los Angeles and Salt Lake Railroad, the line was largely the brainchild of William Andrews Clark, a Montana mining baron and United States Senator. Clark enlisted the help of Utah's U.S. Senator Thomas Kearns, mining magnate and newspaper man, to ensure the success of the line through Utah.[2] Construction of the railroad's main line was completed in 1905. Company shareholders adopted the LA&SL name in 1916. The railway was also known by its official nickname, "The Salt Lake Route", and was sometimes informally referred to as "The Clark Road".
Please allow 3-5 business days for shipping and handling.
Reviews
Featured Products